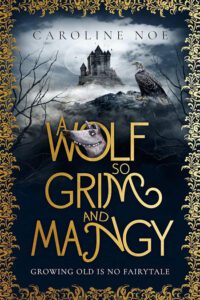 What first drew my attention to this first book in this series, by caroline Noe, was the book cover, which is really striking and a great example of artwork that draws you in, makes you take a second look and conveys the 'feel' of the story inside perfectly.
The book is written in the first person and has the feel of Bridget Jones Diary but far more quirky  and, in my opinion, much better in the humour department.
Without giving too much of a spoiler the story starts as the tale of a single woman tied to a job she hates, in mid life crisis reflecting on her mundane life. 
The normality of the story changes very quickly as the heroine, Edi finds herself launched into a strange, bitterly cold land in a different dimension, with shapeshifting wolves, eagles and snakes. She discovers a world of conflict, deception and deep division and developes into the worlds diplomatic mediator.
Caroline Noe's writing had me in stitches and I caught myself laughing out loud throughout the bizarre but thoroughly enjoyable tale. Her turn of phrase and the offbeat quirky thoughts of Edi  kept me glued to the story, smiling  all the way.
'He looked like he was dragged through an entire forest backwards, scared witless, then given a makeover from the local scarecrow'
If you like fantasy with a difference that will have you laughing hard enough to bruise ribs – this book is for you.
Here is the review I posted on Amazon

Second book in the Mangy Wolf Series by Caroline Noe
Caroline Noe has just published the second book in the 'Mangy Wolf' series which  I have  on my reading list. Another really eye catching cover by the same artist and continues this quirky tale.
I can't wait to immerse myself in another side-splitting bizarre romp, through Carloline Noe's creation and I will post the review when I have had  the pleasure of reading this.