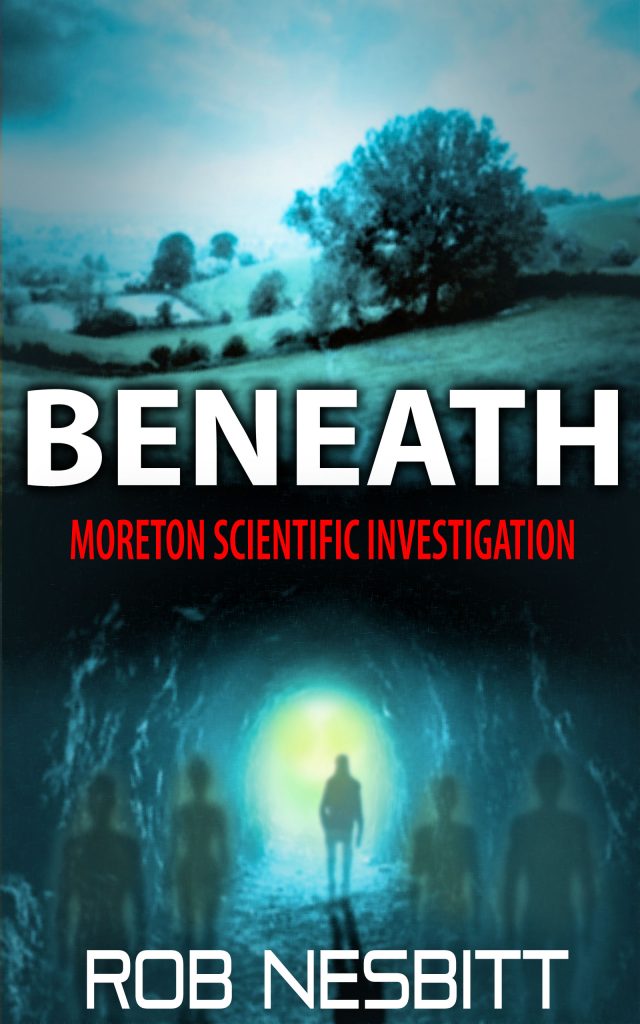 Coming soon, this is the first book in my brand new Morton Scientific Investigation Series. I had written this before the U-SAM Sci-Fi Adventure Series and it has been constantly on my mind to get it published.
Set in a sleepy market town in the Cotswolds, England this is the story of a team of scientific Investigators who are suddenly thrust into the realm of extra terrestrial investigation. A substatial book and much longer than my previous novella series, at around 100,000 words. I am  delighted and proud with the nearly finished article (nearly finished as my brilliant editor Melanie Underwood, has just worked her magic ready for me to publish.
Heres the blurb of Beneath…
Marooned, deserted on Earth and trapped by a cataclysmic earthquake, forced into hibernation, not knowing if he would ever emerge to see daylight again. The mission, to clear the planet of all native lifeforms, delayed by two million years, now rekindled.
Local folk, farm animals and wildlife begin to inexplicably vanish from a British beauty spot after quarry blasting exposes a labyrinth of caves and tunnels, awakening a dormant alien. Ben Sharman's team at Moreton Scientific Investigation are thrown into the middle of a media and military circus as the unbelievable becomes plausible and the impossible emerges as a mind-blowing reality.
Lethal extra-terrestrial power and technology has evolved into something far more sinister.
The Moreton investigation team strive to discover the Achilles heel of the most frightening and deadly threat the planet has ever seen, while doing battle with political will and military agendas that threaten their own lives.
Beneath, the first book in the brand-new Moreton Scientific Investigation series by Rob Nesbitt, author of the highly successful U-SAM Space Opera Series, takes you into the exciting and creepy world of alien investigation in your own back yard.
Fast paced, action packed, full of memorable characters, a storyline, driving forward that will keep your fingers begging to turn the next page, 'Beneath' drags you screaming and kicking to the depths of terror.