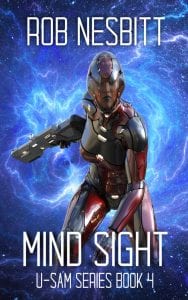 I have finally got the editing out of the way and 'Mind Sight'  book 4 in the U-SAM Sci-fi Adventure Series will be available on Amazon to buy and Amazon unlimited to download from Friday 30th May 2021.
I have had many requests to see when the adventure continues and I am so delighted that I can now publish Book 4 – 'Mind Sight'.
This is a much longer book almost double in length to the previous three in the series and takes U-SAM on a mission to clear her name following some serious Federation corruption at the highest level. 
The quirky crew is at their level best, with Brennon, Koko, Jiyan, Shoova, Theo, and Max pitching themselves against formidable adversaries and having to think a mile outside the box to take on space pirates, kidnapping, new modes of space travel, and murder.  I have crammed a lot into this volume in my usual style of letting you the reader get on with the action, keeping the pages flying, making this a rip-roaring adventure from start to finish.
If you have not yet read books 1-3 in the series there is a great way to play catch up – I am currently offering all books, including the books 1-3 box set for 99c /99p (and equivalent low prices in other global stores) on Amazon for a limited time only. So grab your copy now while the offer is available.
Book 5 in the U-SAM Sci-Fi Adventure Series is already underway and I am planning to make it available later in the year.
To see the full range of books visit my book page here or view my Rob Nesbitt Author Page on Amazon UK, Amazon US , Amazon Australia, Amazon Canada, and all other Amazon stores worldwide.
I am also offering book 1 in the series free for two days – Saturday 1st and 2nd May.