The first book in my brand new series has been published on Amazon in Kindle and paperback and. is also available in Kindle Unlimited Here…. Unlike my U-Sam, sci-fi novellas, 'Beneath' is a much longer book of just under 100k words and gave me more scope for character development and plot.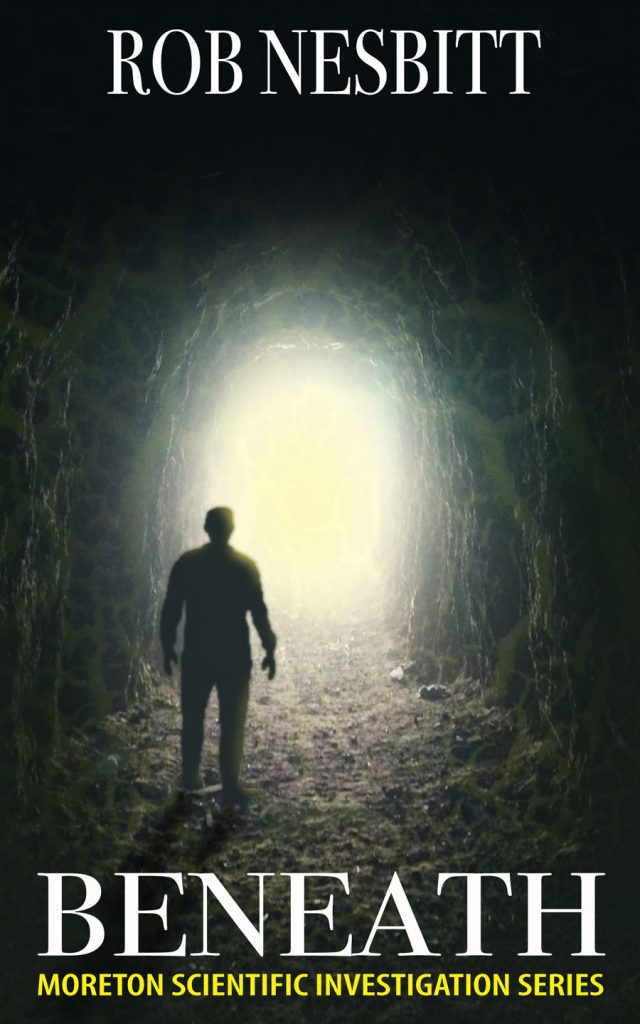 My fabulous editor Melanie Underwood has edited the first draft up in sunny Yorkshire. Armed with some great feedback from Melanie and my beta readers, I self edited at least a dozen times using a variety of tricks and tools such as ProWritingAid, Voice Aloud Reader app (which has a pretty good AI voice reading back the written text) and Scrivener . It's quite interesting how the story sounds and looks when viewed and listened to in a variety of ways.
The front cover has gone through many tweaks and transformations (designed it myself to keep the cost down and saved around £700!!!) and am now happy with it and am so pleased that I learned to use Photoshop. I bought a cover from a 'professional designer' for the first of my U-Sam sci-fi opera series. Awful didn't come anywhere  close and I had a refund. DIY is not only cost free but lets you change, tweak and do it without having to wait. Some elements in the cover I bought/licensed, such as the tunnel on the front cover, but virtually all the rest has been self created, which was a lot of fun to do.
I got the idea for the book from 'The Ruum', a short sci-fi story based in America by Arthur Porges, which I read in school and has stuck with me ever since. The story is of a robot deposited on eath by aliens during the time of the dinosaurs to collect live specimen. The aliens never returned and the 'Ruum' continued collecting specimens to the present day.
I had a 'what if' moment and imagined aliens depositing a pair of creatures to carry out an extermination program on earth over a short period so that they could return and colonize the earth without resistance or competition from the existing wildlife This happened 2 million years ago but unfortunately for the two 'exterminators', a seismic event, deep underground, occurs requiring forced hibernation during the entire development of the human race.
The main story starts when local people, farm animals and pets disappear after the structure of an unexplored cave complex, beneath the Cotswold town of Moreton-in Marsh, is disturbed when quarry blasting opens up the caves and tunnels, ending the mega hibernation.
I understand that the genre sci-fi isn't everyone's cup of tea but from the feedback I have had from non-sci-fi readers every one of them enjoyed the book as it isn't hard and fast, deep space sci-fi. It's more of a detective adventure story where the antagonist just comes from another galaxy and is rather old!
After reading over two hundred books since lockdown, I was dismayed to find many packed with fluff and padding. Some are so descriptive they leave nothing to the imagination or so hell bent on setting the mood that you lose the essence of the plot. Often I have just given up as the plot drifts for what appears to be for no other reason than filling out more pages with irrelevant twaddle. I like to keep things on the boil all the way through and my beta readers confirmed I am doing just that. The last comments I received, from an avid sci-fi reader, were that he was kept up till the early hours by the book, as he could not stop reading until he got to the last page. Bingo! I must be doing something right.
I set 'Beneath' in and around Moreton-in-Marsh, in the Cotswolds, UK because I am familiar with the area, having spent 6 months there back in the early 1990s at the Fire Service College. During the summer of 1991, I was attending a fire officers' fire prevention course. While most of the other students were admiring the view inside the local ale houses, I spent six weeks cycling around every inch of the surrounding countryside in my spare time. First hand experience of the stunning Cotswold countryside made it an easy decision to use this location for this story. I also used Moreton-in-Marsh as the HQ for the scientific investigation team, which are front and centre in this series.
I am entering 'Beneath' into the Kindle Storyteller Award 2023. Not that I am expecting to win the £20,000 first prize, but wanted to experience involvement in Amazons great literary competition and to give myself a tangible target by creating a solid publication deadline. The criteria for the Kindle Storyteller Award is that a book has to be on Amazon as a kindle book and as a physical book, (which I've not done before) and must be available on Kindle Unlimited. This meant designing the whole book jacket (front, spine and back), which was an interesting experience as there are many printing considerations during the design stage. 'Trim size', 'bleed' and a host of other critical technical elements which must be correct, otherwise the book cover and contents might look like they have been compiled by a printer with a serious drink problem!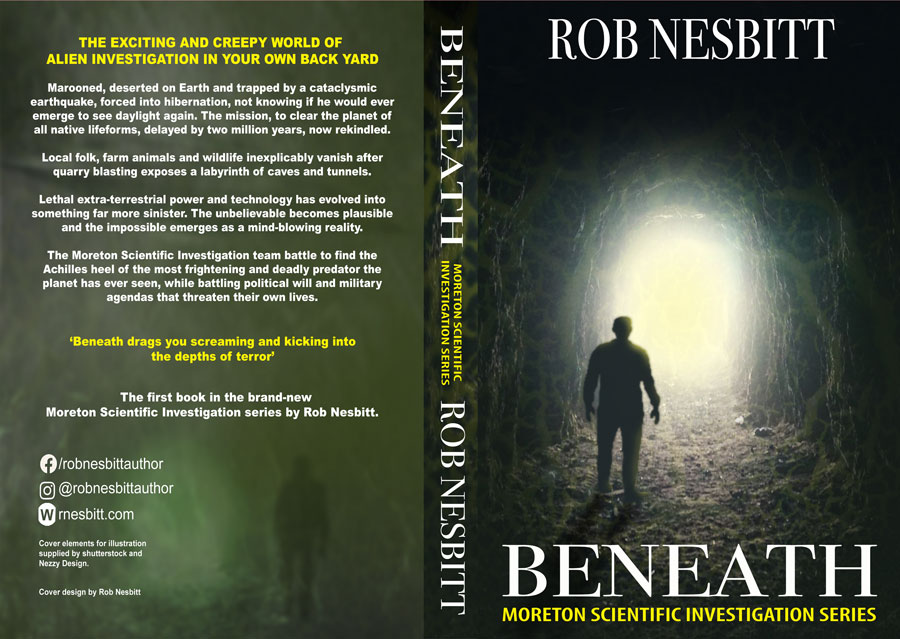 Watch out for Free Dates after Publication
'Beneath' will be available on Amazon both in Kindle and paperpack format in July 2023 and after the launch for free for a few days on Amazon Kindle 4th – 6th August here… If you are already signed up to Kindle Unlimited, you can read it free as part of your membership.
Take advantage of the short free offer and stay informed of publication and free dates and other story offers by signing up to my mailing list here.