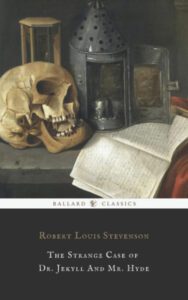 "Strange Case of Dr. Jekyll and Mr. Hyde" is a literary masterpiece that delves into the profound depths of human nature, exploring the dualities that exist within all of us. Robert Louis Stevenson's novella, first published in 1886, has stood the test of time and continues to captivate readers with its enduring themes and intriguing narrative.
The story revolves around the enigmatic Dr. Henry Jekyll, a respected and virtuous scientist, and his sinister alter ego, Mr. Edward Hyde. Through a series of letters, witness accounts, and Jekyll's own confession, Stevenson weaves a gripping tale of a man's struggle with his own darker impulses. Dr. Jekyll's experiments to separate the good and evil aspects of his personality lead to the creation of Mr. Hyde, a figure of pure malevolence.
One of the novella's strengths is its exploration of the human psyche and the inner conflicts we all face. Stevenson's portrayal of Jekyll's inner turmoil is both thought-provoking and unsettling, as he wrestles with the consequences of unleashing his darker side. The transformation from the benevolent Jekyll into the malevolent Hyde serves as a powerful metaphor for the dual nature inherent in every person.
Stevenson's writing style is both elegant and evocative, creating a sense of foreboding and unease that permeates the narrative. The fog-drenched streets of Victorian London serve as a fitting backdrop for the story's dark and atmospheric tone.
What sets "Dr. Jekyll and Mr. Hyde" apart from other tales of its time is its brevity. In just over 100 pages, Stevenson masterfully delves into profound philosophical questions about morality, ethics, and the consequences of unchecked desires. This concise yet impactful storytelling makes it a perfect choice for readers looking to explore classic literature without committing to an extensive novel.
The novella's enduring popularity can be attributed to its universal themes and its ability to prompt introspection. Readers are left pondering the extent to which they, too, might have a hidden Mr. Hyde lurking within them.
In conclusion – "Strange Case of Dr. Jekyll and Mr. Hyde"
A classic that continues to resonate with readers today. Stevenson's exploration of the human soul's dual nature is a thought-provoking journey into the dark recesses of the mind, making this novella a must-read for anyone interested in timeless literature that grapples with the complexities of human existence.