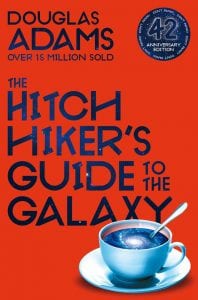 I have recently joined Amazons Audible book service and decided to listen to some of the modern-day classics I had always wanted to listen to and The Hitchhikers Guide to the Galaxy caught my eye.  Not just because it is so well known through film and TV but because Stephen Fry was narrating the book – and a good job he was too!
After the first couple of chapters, I realised that The Hitchhikers Guide to the Galaxy was a universe away from what I thought it would be.  I never saw the film or TV versions so it was totally new to me.  I expected… well I didn't really know what I expected but it wasn't what was being delivered to my ears so succinctly by the wonderful narration of Stephen Fry.
In simple terms, the story is farcical, full of ridiculous theories and events spattered with unbelievable characters and a storyline that would make Enid Blyton's Faraway Tree seem totally believable to an adult reader.  I got to a fork in the road at chapter five where I had almost given up the will to live.
Doggedly, I ploughed on, determined to finish this utter pile of twaddle and I am so glad I did.  From chapter six I made myself accept the mounds of rhubarb that had been written and get it done.  At this point I accepted the ridiculousness of the storyline, the preposterous names and places coined by Adams and after a while, I really started to enjoy it.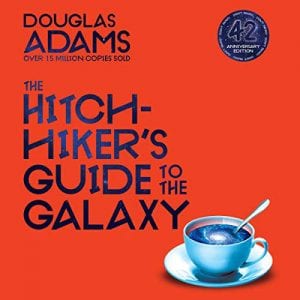 Douglas Adams is without question a brilliant writer. and I really enjoyed his colourful use and expertise of the English language. With Mr Fry at the microphone, it was a joy to listen to and Stephen Fry is the only person I can think of that could negotiate his tongue around some of the tongue twizzling words, not found in the Oxford Dictionary (or any other dictionary I can think of).  Words that would make a Necadoptorus Glandscraper from the outer nebula of Harteborellous 6, struggle for breath.
Hitchhikers Guide to the Galaxy – Marmite?
I believe the Hitchhikers Guide to the Galaxy is made of Marmite – you'll either love it or hate it.  The only other recommendation I can make is don't buy the book, buy the audiobook!
Available from Amazon here…   UK.

.  USA.