There is a mulltitude of software and other tools that can either help you when writing and editing your books. My main 'go to' software tools are Scrivener, ProWritingAid and Vellum, which I will explain below in some detail. I also make some other suggestions for free tools.

What is Scrivener and how does Scrivener help when writing and editing your books?
Before discovering scrivener I used Microsoft Word, which was okay for short passages but once I had written several chapters it became apparent that Word has its limitations, particularly when trying to locate different sections of the book in progress.  I heard about Scrivener from Joanna Penn on her brilliant podcast 'The Creative Penn' and have never looked back.
Scrivener is a popular writing software designed specifically for authors, particularly those working on longer and more complex writing projects such as novels, research papers, and screenplays. It provides a flexible and organized environment for authors to plan, write, and manage their work. Here's how Scrivener works for authors:
Organization and Structure: Scrivener allows authors to break down their writing projects into smaller, manageable sections or "scrivenings." These can be chapters, scenes, or any other organizational unit that makes sense for your project. You can easily rearrange and restructure these sections as needed.
Corkboard and Outliner: Scrivener provides a virtual corkboard and outliner view, which lets you plan and outline your work visually. You can create virtual index cards for each section and arrange them on the corkboard to see the overall structure of your project. The outliner view provides a more detailed textual overview.


Scrivener with the 'Cork Board' format displayed

Research and Reference: Scrivener includes a research section where you can store and organize reference materials, notes, images, web links, and any other resources related to your project. This makes it easy to acces. In the examples shown I have added in pages  to the reference section outlining the plot and individual characters with their details. Its easy to click back and forward to check information. 
Writing Mode: Scrivener offers a distraction-free full-screen writing mode that helps you focus solely on your writing without distractions from the user interface. You can customize the background and font settings to suit your preferences. This is the best part as I can jump between chapters to check, add detail, correct continuity issues, without having to wast time scrolling therough a single Word document.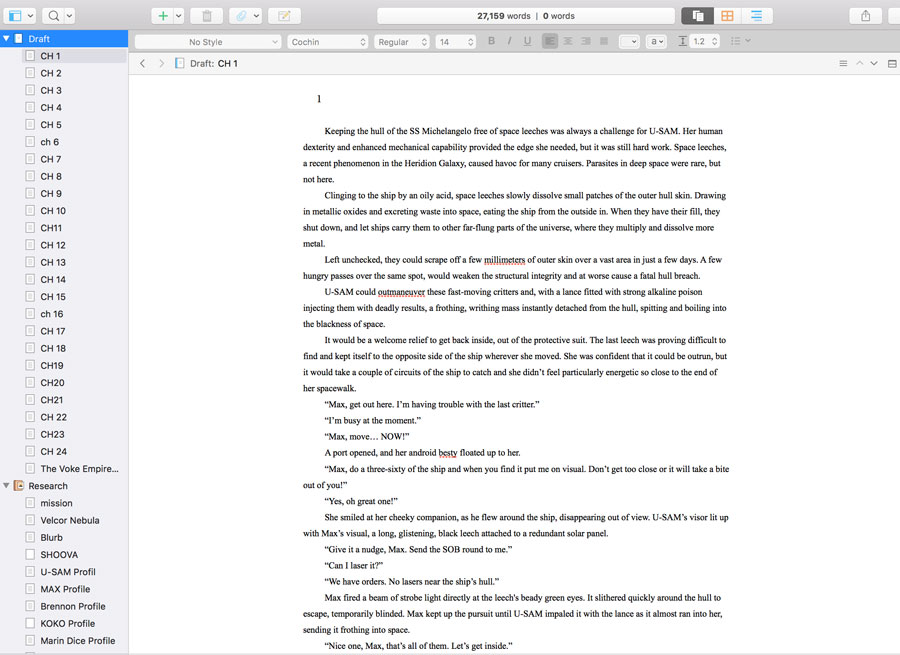 Rich Text Editing: Scrivener provides a powerful text editor with formatting options, which allows you to format your text as you write. It also supports footnotes, annotations, and comments, making it ideal for academic and non-fiction writing.
Word Count Targets: Authors can set word count goals for individual sections or the entire project. Scrivener tracks your progress and helps you stay on target.
Compile and Export: When your writing project is complete, Scrivener allows you to compile and export it into various formats such as Word, PDF, e-books (ePub and Kindle), and more. You can customize the formatting and structure for different output options.
Backup and Version Control: Scrivener automatically creates backups of your work, ensuring that you don't lose any content. It also supports version control, so you can revert to earlier drafts if needed.
Custom Templates: You can create custom templates for various types of writing projects, which can save you time when starting a new project with similar requirements.
Integration: Scrivener can be integrated with reference management software like Zotero or Mendeley, allowing you to cite and manage your sources more easily.
Multi-Platform: Scrivener is available for both macOS and Windows, making it accessible to a wide range of authors.
Collaboration: While not as robust as some dedicated collaborative writing tools, Scrivener allows for some degree of collaboration by sharing project files and syncing via services like Dropbox.
Overall, Scrivener is a versatile and feature-rich tool that provides a structured and efficient writing environment for authors. It's particularly beneficial for authors who prefer a more organized and modular approach to their writing projects, allowing them to focus on their creativity while keeping their work well-structured and manageable.
It works for me and I particularly like the section in the menu where I can add research notes, web site links, pages of notes, character profiles and images  so that I do not have to leave scrivener to search for material I have collected for reference.
It is relatively cheap to buy and is easy to install. Joanna Penn offers a short Youtube course to get you into the  swing of using Scrivener and there are tutorials on the software itself and many youtube videos to show you  how it works. I found it very easy to learn and was up and running shortly after downloading the software.
Scrivener is currently available for Mac users (MacOS 10.13+) and Windows (10+) You can download it for a free trial here 
ProWritingAid – What is it and how can it help to edit your book?
ProWritingAid is a popular writing assistance tool that is used by authors to improve their writing. It works by analyzing your written content and providing suggestions and feedback to enhance your writing in various aspects.
I could not do without this fantastic software. I used to use Grammarly which is a free resource but found it too basic. ProWritingAid does everything I need to self-edit. If you are on a limited budget and cannot afford a professional editor at first  ProWritingAid  is a great way  to get your manuscript into shape for publication. I use three out of the many tools it has to offer – Style, overused/ repetetive words, and grammar and really like the rewrite suggestions it makes when sentences don't flow. It is a great piece of sortware for any author.
Here's how ProWritingAid works for authors:
Grammar and Spelling Checking: ProWritingAid scans your text for grammatical errors, including issues with subject-verb agreement, sentence fragments, run-on sentences, and punctuation errors. It also checks for spelling mistakes, ensuring your writing is error-free.

Grammar and Spell Checking Function

Style and Clarity: The tool analyzes your writing style and provides suggestions for improving clarity and readability. It helps identify and rectify issues like wordiness, passive voice usage, and complex sentence structures that may hinder comprehension.

Style and Clarity function

Vocabulary Enhancement: ProWritingAid offers vocabulary suggestions to help you vary your word choices and avoid repetitive language. It provides synonyms and helps you discover more precise and engaging words.
Sentence Structure Analysis: The tool examines your sentences to ensure they are well-structured and coherent. It offers suggestions to improve sentence length and structure for better flow and readability.
Consistency Checks: ProWritingAid helps you maintain consistency in your writing, such as ensuring consistent capitalization, spelling, and formatting throughout your document or manuscript.
Readability Analysis: It evaluates your writing's overall readability, giving you insights into the reading level and providing recommendations to make your content more accessible to your target audience.
Plagiarism Checker: ProWritingAid offers a plagiarism checker feature that scans your text against a database of sources to detect potential instances of plagiarism. This is important for authors to ensure the originality of their work.
Writing Reports: The tool generates detailed reports that provide an overview of your writing strengths and weaknesses. These reports can help you identify areas where you can improve as an author.
Integration with Writing Software: ProWritingAid can be integrated with popular writing software like Microsoft Word, Google Docs, and Scrivener, making it easy to use within your preferred writing environment.
Customization: ProWritingAid allows you to customize its suggestions and rules based on your writing style and preferences. You can choose to accept or reject its recommendations.
Writing Goals: Authors can set specific writing goals, such as word count targets or improvements in readability, and ProWritingAid tracks your progress toward these goals.
Overall, ProWritingAid serves as a comprehensive writing assistant that helps authors polish their work and elevate the quality of their writing. It offers a wide range of tools and insights to enhance grammar, style, and overall writing quality, making it a valuable resource for authors at various stages of their writing process, from drafting to editing.
What is Vellum and how can it help Authors to Format their books?
Vellum is specialized software designed for authors and publishers, primarily focused on the formatting and production of e-books and print books. Here's how Vellum works for authors:
Import Your Manuscript: Authors begin by importing their completed manuscript into Vellum. This manuscript can be in various formats, such as Microsoft Word documents or plain text files. Vellum then analyzes the content to identify chapters and sections.
Choose a Style: Vellum offers a variety of professionally designed book styles and themes. Authors can choose a style that matches the genre and aesthetic they desire for their book. Styles encompass font choices, margins, headings, and other design elements.
Customize Formatting: While Vellum provides predefined styles, authors can customize formatting to some extent. They can adjust font sizes, line spacing, and other styling details to match their preferences or branding.
Preview and Refine: Vellum provides a real-time preview of how your book will look on different devices, including e-readers, tablets, and print. Authors can preview and refine the formatting, ensuring that their book appears as intended on various platforms.

Vellum Dashboard showing the chapter sequence, editing section and appearance on a variety of devices

Front and Back Matter: Vellum simplifies the creation of front and back matter, such as title pages, copyright pages, author bios, and acknowledgments. Authors can easily add and format these sections using templates.
Chapter and Section Management: Vellum automatically handles the generation of table of contents and page numbers. It ensures that chapter headings and subheadings are consistent and correctly formatted throughout the book.
Image Handling: Authors can insert images, such as book covers or illustrations, into their book. Vellum optimizes and formats these images to fit seamlessly within the text.
E-book and Print Export: Once satisfied with the formatting, authors can export their book in various formats. Vellum supports the creation of e-books in formats like ePub and Kindle, as well as print-ready PDFs for physical book printing.
ISBN and Metadata: Vellum assists with assigning ISBNs (International Standard Book Numbers) and managing metadata like book titles, author names, and keywords. This information is crucial for publishing and distribution.
Distribution: While Vellum doesn't handle the distribution of books directly, it prepares the formatted files for distribution to online platforms and print-on-demand services. Authors can then upload these files to platforms like Amazon Kindle Direct Publishing (KDP) for e-book distribution or use a print-on-demand service for physical copies.
Revisions and Updates: Authors can easily make revisions and updates to their books within Vellum. This is especially useful for releasing new editions or correcting errors.
Cross-Platform: Vellum is available for macOS, and it provides seamless integration with the macOS ecosystem. Authors using other operating systems may need to explore alternative tools for book formatting.
Vellum streamlines the often complex and time-consuming process of book formatting, making it accessible to authors who may not have extensive design and formatting experience. It allows authors to focus on the content and presentation of their books, ensuring a polished and professional result that can be easily published and distributed both digitally and in print.
Life  before Vellum was difficult as I produced my first Novella in Microsoft Word, then uploaded it onto Amazon with fingers and toes crossed, not knowing if the formatting would be passable. It did upload but that first attempt looked terrible, with paragraphs out of alignment, inexplicable gaps and even broken words. Vellum was a revelation and not only takes care of turning text into a beautifully fomatted books in any publishing format, but makes life simple when making changes.
Any author will tell you that no matter how dilligently you prepare your book there will always  be an error or two lurking somewhere. I also need to amend some of the publicity I include at  the end of the books  (as I write and publish more) and Vellum makes this simple. Once the amendment is made it produces all the amended publishing formats in seconds, ready to upload.
Other Resources for Writing and Editing your Books
Authors who are looking for free tools to self-edit their draft books can benefit from various online resources and software options. Here are some free tools that authors can use for self-editing:
Hemingway Editor: Hemingway Editor is a free web-based tool that analyzes your text for readability and suggests improvements to make your writing more concise and straightforward.
AutoCrit: AutoCrit offers a free version with limited features for self-editing. It focuses on checking your manuscript for common writing issues, such as repetition and overuse of words.
Reedsy Book Editor: Reedsy's free book editor allows authors to write and format their manuscripts within a web-based platform. It's designed for self-publishing and helps with basic formatting.
Google Docs: Google Docs has built-in spelling and grammar checking features. It's a free word processing tool that can be used for writing and editing. Authors can also collaborate with others in real-time.
Natural Reader: Natural Reader is a free text-to-speech tool that can read your manuscript aloud. Listening to your writing can help you catch awkward phrasing and errors that you might miss when reading silently.
Cliché Finder: Cliché Finder is a free online tool that helps authors identify and avoid clichés in their writing. It can be a handy resource for adding freshness to your prose.
Online Thesauruses: Websites like Thesaurus.com or Power Thesaurus provide free access to a wide range of synonyms and antonyms, helping authors vary their word choices.
Online Writing Communities: While not traditional editing tools, online writing communities like Wattpad or writing subreddits on Reddit can be places to share your work and receive feedback from other writers.
Read-Aloud Feature: Many word processors, including Microsoft Word, have built-in read-aloud features that can help you listen to your writing and catch errors or awkward phrasing.
Self-Editing Checklists: Create or find self-editing checklists or guides online to systematically review different aspects of your manuscript, such as plot, character development, pacing, and dialogue.
Editing on different viewers: I edit on my IPhone where I can highlight areas that require amending then taking screenshots, which I then and edit on my Mac. It is strange that different views of the same text can make errors jump out at you. Here is a screen shot from my phone as an example. 
It may be a crude way of editing but it works for me. I also view text on my Kindle and in physical hard copy format. 
Remember that while these free tools and resources can be helpful for writing and editing your books, they may have limitations compared to more advanced paid editing software or the expertise of a professional editor. It's a good practice to use a combination of these tools and seek feedback from beta readers or writing peers to get a well-rounded perspective on your work.